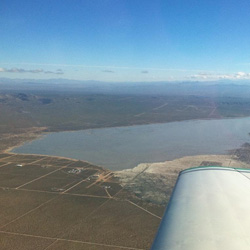 El Mirage, not so "Dry" Lake!
The winter of 2010 was not so dry, and El Mirage has now completely filled with water and on some days - SNOW!
We have been camping on the lake on previous occasions, and the lake has temporarily filled with water from thunderstorms, but it was almost always dry by the next morning.
The last few months of 2010 saw 4.5 inces of rain and snow! It will likely not be opened again until March or April 2011.
The picture to the left shows the dry lake full of water - more than we have ever seen before! The area where we usually camp is now out in the middle, as the water is all the way to the bathroom near the west side.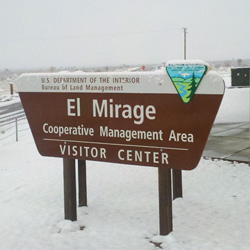 Click on the images to see the larger versions, and you can see that the lake is full from end to end and side to side. The good news is - If they can keep the 4-wheelers and motorcycles off the lake until it is dry, the lake will heal and be very smooth again!
We look forward to getting back out there again for some TrikeBuggy'n soon! Still wet at the end of January: