Weather To Fly for Sport Pilots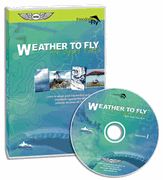 Sport Pilots fly lower and slower than General Aviation pilots, so weather plays a critical factor in your flying. This straightforward and beautiful presentation features time-lapsed cinematography of cloud formations, in-air footage, and animations. This DVD simplifies complex weather concepts as well as illustrates consequences of pilot judgement in a 5-step system specific to Sport Pilots and light-sport aircraft operations. You will learn to forecast local conditions, interpret weather information accurately, make better decisions about "whether to fly," and learn to see trends – so you "get smarter each time you fly."
Includes booklet with worksheets for an interactive learning experience. Companion to the Sport Pilot Logbook (ASA-F2F-LOG).
This is a much needed instructional DVD on pilot weather and meteorology. Flight Instructor, Paul Hamilton, takes you through a simple 5-step system specific to Sport Pilots flying weight-shift trikes, powered parachutes, fixed wing ultralight and light sport aircraft to show where to acquire weather data and how to interpret it.
The "Weather To Fly" system takes pilot capabilities plus aircraft limitations and weights them against the weather in the ultimate decision of "whether to fly".
Flight instructor, Paul Hamilton, takes you through a simple step-by-step process that is easy to follow. You will learn about regional and local influences on weather in a straight-forward presentation.
You will be able to forecast local conditions yourself and interpret weather information accurately to develop a clear mental picture of the conditions that may affect your flight.
Time lapsed cinematography of cloud formations, in-air footage, and animation is used to simplify complex weather concepts, as well as, illustrate consequences of pilot judgement.
After a brief introduction, you begin with "The Global Energy Engine - How the weather starts". This gives a global view of the hot and cold air masses, air currents, and weather patterns. This provides the basis for the "Big Picture" of weather and lays the foundation for your understanding of weather.
Then you move to the "Weather To Fly" system. The 5 step process guides you in select appropriate weather conditions for safer and more enjoyable flights.
Step One is "Information Resources Preparation". You learn where to get the best weather information. The internet site www.WeatherToFly.com is one of the great weather resources covered.
In Step Two, "Observing your Local Weather", you learn how to observe conditions at your local site. The section on clouds, terrain, and wind provide the tools. Typical local characteristics for mountains, deserts, marine, and other types of terrain are discussed. The Sport Pilot 1-800 WX-Brief is also covered.
In Step Three, "Whether to Fly?", you learn how important it is to compare your aircraft limitations and pilot capabilities to the weather conditions. Physical condition, mental attitude, as well as, the pressure to fly from family, friends, and ourselves are discussed.
Step Four, "The Flight", takes you through flight planning and pre-flight with the emphasis on weather considerations. You'll get some great tips on using your instruments, including your GPS, to measure horizontal wind and vertical air currents. Safety issues relating to weather are discussed.
Finally, Step Five, "The Analysis" is where you compare your flight to the predictions you made prior to your flight. Here is where you learn how to develop your understanding of the air you choose to fly in. Making note of your observations and any trends or patterns for future reference helps you "get smarter each time you fly".
Program Outline
Introduction (The Global Energy Engine)
Step 1: Information Resources, Preflight Preparation (Regional Weather, Local Conditions & Upper Air, Sport Pilot Briefing)
Step 2: Observing Your Local Weather (Clouds, Terrain, Wind & Gusts)
Step 3: Whether to Fly? (Compare Aircraft/Pilot Capabilities to the Weather, Evaluate Physical Condition & Mental Attitude)
Step 4: The Flight (Flight Planning, Instruments, Flight Techniques)
Step 5: Analysis (Flight Conditions, Events, Predictions, Feedback, Determine Trends & Patterns)
Producer Comments
This program is packed with useful details with a comprehensive view of the basics and practical applications that you can use immediately. Expert pilots will be able to follow all points in their first viewing, while newer pilots may view it a number of times to full grasp all of the concepts. Our goal was to make this program beneficial for new, as well as, experienced pilots.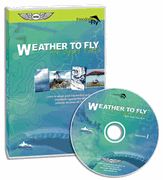 Weather To Fly for Sports Pilots
$49.95
"Weather To Fly For Sport Pilots" is patterned after the original and highly successful "Weather To Fly - Basic Concepts for Flight with Dixon White", which has become the industry standard for ultralight and soaring pilots. Dixon White of Dixon's Airplay Paragliding School located in Arizona and Washington State, as well as, Dennis Pagen, Author of "Understanding the Sky - A Sport Pilots Guide to Flying Conditions" were consultants on this project.
Using the principles presented in Weather To Fly, you can make better decisions about "whether to fly". Track your flight history and educating yourself for future flights by having an easy reference to past conditions and the quality of the flight you had. See trends that you might not have seen if you hadn't had documentation. Try to "get smarter each time you fly".