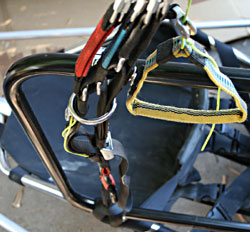 These Riser Guides allow the pilot to balance the Center of Gravity (CG) on their TrikeBuggy Ultralight. The risers of the glider is routed through these Riser Guides, then down to the Carabiner, which is attached to the Hang Strap attached to the "Hip" of the Buggy.
Moving these Guides forward and rearward allow the pilot to balance the TrikeBuggy for proper angle of the engine during flight, and for the front wheel to be slightly higher during takeoff and landing - critical for smooth transitions.
Sold in pairs. Chromed steel construction.
The Classic TrikeBuggy uses the 1" size, and the Bullet uses the 1.5" size.