SpeedTech SkyMaster Weathermeter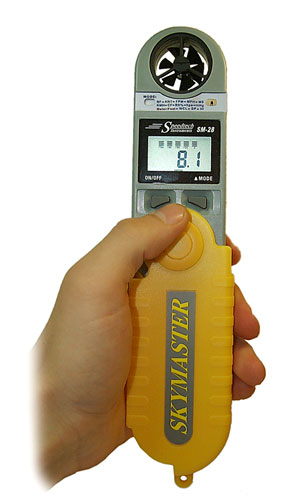 The SKYMASTER Weather Meter provides precision air velocity, temperature, relative humidity, and barometric pressure measurements--plus altitude, dew point, heat index, and wind chill readings--in a pocket-sized, easy-to-use instrument. The SKYMASTER also graphically displays 16-hour pressure history and sounds an audible warning if severe weather threatens. The SKYMASTER's folding pocketknife design gives this hand-held weather meter exceptional ease of use and portability.
Important features and functions of the SKYMASTER are as follows:
Five operating modes: Wind Speed, Temperature, Relative Humidity, Barometric Pressure, and Altitude.
In Wind Speed mode, available displays are current wind speed, maximum wind speed, average wind speed over 10 seconds, and wind chill.
* Wind speed can be displayed in knots, Beaufort scale, feet per minute, miles per hour, meters per second, and kilometers per hour (resolution to tenths).
* Wind chill can be displayed in either °F or °C.
In Temperature mode, available displays are current temperature, heat index, and dew point.
* Temperature, heat index, and dew point can be displayed in either °F or °C (resolution to tenths).
In Relative Humidity mode, humidity is displayed as RH% (resolution to tenths).
* SKYMASTER's hygrometer can be manually calibrated for more demanding field requirements (see Note below).
In Barometric Pressure mode, available displays are current pressure and 16-hour pressure history bar graph.
* Pressure can be displayed in inches of mercury (inHg) or hectopascals/millibars (hPa/mbar).
* Resolution is to 0.01 inHg and to 0.1 hPa/mbar.
* SKYMASTER must be on for a total of 16 hours before the complete history graph is displayed.
* Alarm sounds if barometric pressure falls or rises 6 millibars over a 3-hour period. (A dramatic pressure drop often indicates impending severe weather.)
In Altitude mode, altitude is displayed in feet or meters (resolution to 1 foot and 1 meter).
* Severe weather alarm is disabled in Altitude mode to prevent false alarms as your altitude changes.
Folding protective cover extends total meter length to almost 9-1/2 inches for better reach.
High-visibility bright yellow case.
Floats in water.
Water resistant to 3 feet.
Shockproof.
Low-battery indication.
Tripod- or monopod-mountable.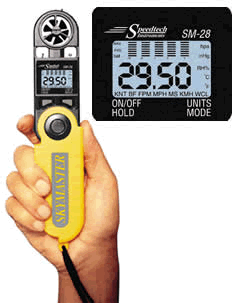 The lithium battery in the SKYMASTER normally lasts about 400 hours. To maximize battery life, either turn the SKYMASTER off or leave it in Barometric Pressure mode (in which case it records pressure history) when not in use. Different modes drain the battery at different rates. Wind Speed mode drains the battery most rapidly, followed by Relative Humidity mode.
If the wind speed impeller is ever damaged, you can obtain a replacement from the manufacturer and install it easily yourself. The SKYMASTER's instructions include this procedure.
A handy, removable safety lanyard is included so that you can wear the SKYMASTER around your neck. Also included is a spare battery. If you're a serious outdoor sportsperson/weather watcher in need of a multifunctional, go-anywhere weather station, the SKYMASTER is well worth a serious look.
NOTE: The SKYMASTER is pre-calibrated at the factory to provide accurate relative humidity, barometric pressure, and altitude measurements. However, each of these functions can be calibrated manually for more demanding field requirements. This is easily done via the three applicable procedures in the SKYMASTER's instructions. To do the manual relative humidity calibration, you'll need the calibration voltages for your particular SKYMASTER. These are provided on a small slip of paper included in the small plastic bag that also contains the the lanyard and a replacement battery. Do not lose this piece of paper--always keep it with your SKYMASTER's instructions.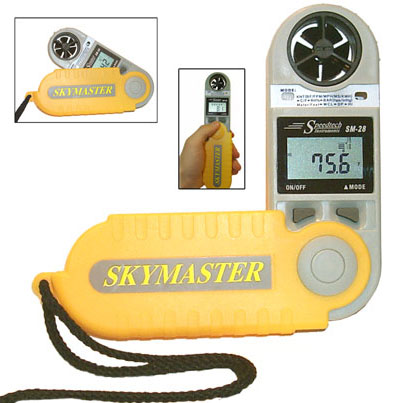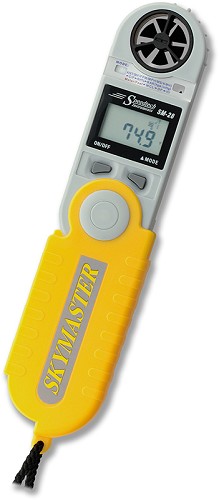 Skymaster Weather Meter (SM-28) Specifications
+/- 3% Windspeed
+/- 2 F° Temp/Windchill
+/-3% rH
+/- 3°F Dew Point
+/- 3°F Heat Index
+/-3 hpa Barometric Pressure
Wind speed: .4-89 mph
Temperature: 5° to +122° F
Wind chill: -22° to +158° F
Dew Point: -31.2° to +155.8° F
Heat Index +69.8 to +155.8° F
rH 0-99%
Barometer 400-1100 hPa
Altitude -500 to 9000 feet
Knots, MPH, KPH, M/Sec, Ft/Min
Beaufort Scale, F or C
Current Windspeed; Avg. over 2 sec; Avg. Wind 5 sec; Max Wind 2 sec gust
Temp/windchill/rH/dew point 1 min
15 min sampling barometer
CR2032 Lithium battery (included)
Dimensions: 5.9 x 2.1 x .85 inches
Weight: 3.9 oz.