SpeedTech SkyMate WindMate 100 Windmeter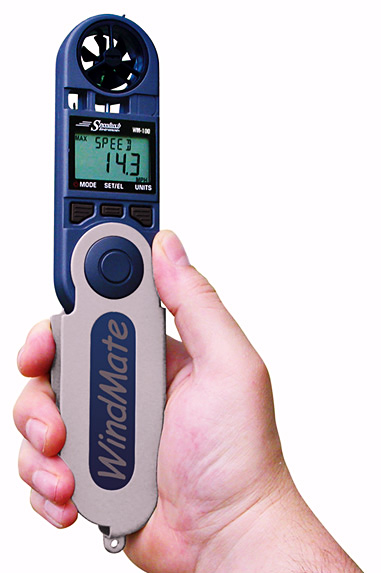 Best value for a quality wind meter and comes with a 2year warranty! The wind vane and jackknife case assure accuracy. Powered by a 400-Hr replaceable lithium battery. WindMates are accurate to within 3%. Each unit is water resistant, has a tripod fitting and auto shutoff feature.
Current, Average (5,10,13 secs) Maximum wind speed all use a wind vane to ensure most accurate measurements. For long-range shooting, use the tripod fitting and add the optional wind tunnel accessory. All wind functions in user selected units * Reads in tenths * Backlight * Tripod fitting * Rugged water-resistant case * Comes with adjustable lanyard.
Features:
Current wind speed
Average wind speed(5, 10, 13 seconds)
Maximum wind speed
Mph, Kt, Kp/h, BF, FPM, M/Sec.
Wind vane assures you are on the wind's axis
Tripod fitting
Fits wind tunnel accessory
Rugged water-resistnat case meets U.S. military specifications
Auto shutoff
Comes with adjustable lanyard