Subscribe to
Paramotor Magazine
The latest issue of Paramotor Magazine featured the TrikeBuggy Delta in the New Products section!
Unfortunately, they called it the "Fly Above All" TrikeBuggy Delta. Oh well, we will just have to work harder at getting the TrikeBuggy name out there!
In this issue, there are also some great pictures and articles of PPG Trikes. More and more, I see the "Evolution" from walking to rolling into flight (not to mention the return to mother earth!).
PPG Trikes are really beginning to take hold, and there are some amazing pilots that prefer these to foot launched flight. "Viva el Evolucion!"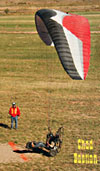 Subscribe to
Ultraflight Magazine
Ultra Flight covered the recent 2007 Powered Parachute Championships in Hurricane, Utah. I flew the TrikeBuggy in the meet along with my larger brethren, and ended up winning the meet (unofficially, since I was deemed an "exhibition competitor").
The tasks included the Bomb Drop, Accuracy Landing, Multiple IN-LINE Rectangles, Power off Landing, Multiple PATTERN Rectangles, Hi-Lo Bomb Drop, Precision Taxi, Obstacle Landing, and Pylon Run. See the PDF of the tasks HERE. You can hear a Webcast Replay of the organizers and meet director, Frederick Scheffel. See PICTURES from the magazine.
I really enjoyed the challenge of the tasks, and encourage PPG Trike pilots to participate in the event next year. Who knows, maybe we can have our own National Championships someday!

Subscribe to
Ultraflight Magazine
The TrikeBuggy made the latest issue of Ultra Flight Magazine again! In an article discussing the hangpoint position of different PPG harnesses and trikes, the TrikeBuggy was caught in flight somewhere over some trees.
The TrikeBuggy was seen later in the same issue back at the Glamis Dunes with Eric Dufour in a steep turn near the ground, epitomizing the kind of "Risk & Reward" discussed in Jeff Goin's article titled "The Ultimate Price".

Subscribe to
Paramotor Magazine
The TrikeBuggy made the premier issue of Paramotor Magazine! Eric Dufour was flying a cloverleaf pattern at the Glamis Dunes between the Paratoys Fly-In and the Arizona Flying Circus when Jeff Goin snapped a picture of him carving it up on an XS Ozone Rush.

The TrikeBuggy was featured in the New Products section of the second edition of Paramotor Magazine. Chad Bastian, our lead instructor, was also asked to participate in the Round Table discussion of PPG launching techniques.