Your Favorites: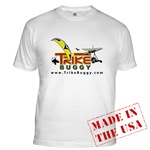 T-Shirts, Sweatshirts & More!
Now you can order TrikeBuggy Shirts, sweats, caps, mugs and more from our new T-Shirt Store!
We'll be adding more designs soon, but for now, there's the TrikeBuggy logo on everything!
If there's something you'd like to see us do on a shirt, just drop us an email, and we will see if we can git 'er done! More Info...
---

DVD - Risk & Reward
A must for all pilots, beginner and advanced, this DVD covers fundementals that are certain save wear and tear on your equipment, your body, and your wallet.
Jammed into 67 action packed minutes, Risk and Reward covers everything from getting starting in Powered Paragliding to the 4 most common causes of injury and more importantly HOW TO AVOID THEM! More Info...
---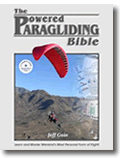 Book - The Powered Paragliding Bible
This book is the most thorough manual ever produced for our sport, offering a concise treatment of subject matter for anyone serious about flying. It will be appreciated by those just learning as well as those wanting to master the sport, to explore all it has to offer.
If you have ever wondered about the sport of powered paragliding, this will answer your questions. Everything from selecting an instructor to buying gear to learning what to do with it. More Info...
---

ICARO SKYRIDER Paramotoring Communication Helmets
The new Icaro 2000 Skyrider PPG helmet (with optional clear visor) is the result of years of research in the Powered Paragliding community. Icaro took the time to find out what pilots wanted in a communication helmet and this is the result. The combination of the quality of workmanship, materials used, great looks and affordable price will make this helmet the first choice among PPG pilots. More Info...
---