Bucknell Field, CA
Some of my students sent me a note about this little dry grass field near California City. Please be careful not to fly east into the Restricted Airspace! Here is a post from Bob WX:
This is a strangely clear, fairly grassy area in the middle of the desert. It's fairly flat on the east side along Bucknell Rd but the terrain rises as you go west and the west side is maybe 100 feet higher than the east side. As it's not a dry lake it's not as clear and smooth as a dry lake bed, but it's smooth enough and the grass is short and thin enough that I had no problems operating my Flash trike there, and the shallow incline made no difference in take off and landing that I could tell. It's kind of like the community use field Chad uses in California Valley only not as green, better than half the area shallowly inclined rising to the west, and much more space with almost no road beds to avoid on take off and landing.
The entire area has excellent desert trail riding and is a favored destination for camping and trail riding. During the time I was there the wind was primarily out of the east. I established my camp on the high ground on the west side of the clearing where there is a large camp fire ring and I was able to launch and land literally right at the back of my trailer, no need to drag the equipment anywhere.
This location is more challenging to fly than others. There are additional concerns here that need some thought and planning in order to fly safely and legally. To begin with, this field is a few miles North-West of restricted airspace R-2515. However, the edge of the restricted airspace runs a short distance to the South-East of, and roughly parallel to Randsburg Mojave Rd. Remaining clear of the restricted airspace is simply a matter of "don't cross Randsburg Mojave Rd." The road is easily identified as the closest South-West to North-East diagonally oriented road to the field. Further, on the drive in you will pass a large water tank at the intersection of Randsburg Mojave Rd and Bucknell Rd. This water tank is quickly and easily identified as soon as you get into the air and can be seen for many miles. This tank at this intersection makes identifying Randsburg Mojave Rd easy.
Some thought should be given to forced landings. There are areas here that are inaccessible for ground pick-up and impossible to hike back from with your gear should you be forced down. Cell phone coverage is "iffy" and if you land in a low spot you may not be able to call for help. If not remaining close to the field it would be a good idea to consult the maps and satellite photos, and plan your flight to remain clear of the restricted airspace and close to a ground accessible area such as not too far from an established road that is passable by your pickup vehicle. If you are flying with someone else remain in sight with each other so if one goes down the other knows where to go to pick them up. If you are flying by yourself, leave instructions with someone at the field on where to look for you if you don't return by a specific time. If you are not able to do either, don't fly further from camp than you are willing to hike back, and be sure the terrain you would have to cross during the hike is passable with your gear in tow. Don't forget some water for the hike back or even while waiting for pickup. This is the desert!
A flight to the North-West to Koehn Dry Lake looks inviting however, you will need to plan carefully as you will be crossing some of the previously mentioned ground inaccessible terrain, forced landing sites will be few and returning to the field on foot with your gear will be impossible due to the steep, rocky hill sides and fences. If forced down, landing on the lake bed may be your best option especially as the lake bed is about 1,000 feet below the field and it should not take long before you are in gliding distance. I have not been over to the lake to check things out for myself. From my on-line research I understand that vehicles are not permitted on the lake bed but hiking is, and access to the lake bed is available from Munsey Rd which passes by the southern tip of the lake bed. About 800 feet before the eastern end of Munsey Rd another road or trail forks off to the left and follows the eastern side of the lake bed for quite a distance. This may be part of the trail riding system in the area and I do not know how passable this road/trail is by street legal vehicles. If forced down you will want to land as close to Munsey Rd as possible, but at least on the eastern side of the lake bed or on the trail itself. Because of the Desert Tortoise Natural Area, anyone coming for you from camp will have to drive around into California City, and from California City Blvd head North out Neuralia Rd and then East on Munsey Rd to look for you. If they do not find you before the end of Munsey Rd, they can head North on the trail depending on how passable it is. In the mean time you should be working your way along the trail south toward Munsey Rd in order to be found. I do not know if there is any cell phone coverage in the dry lake area.
If attempting a flight to Koehn Dry Lake you will also need to remember that for the return leg you will probably want to climb a couple thousand feet while remaining in gliding distance of the lake bed before crossing the rough terrain to return to the launch field. You will need to conserve enough fuel and make sure you have enough of a satisfactory weather window to make the return leg. A one way trip with planned pick-up from Munsey Rd at the southern tip of the lake bed might be another idea. In any case, a flight to Koehn Dry Lake should not be attempted until you drive to the lake bed and check things out for yourself.
Here are driving directions from California City to the Bucknell Rd clearing:
East through town on California City Blvd, past the golf course to the Randsburg Mojave intersection (traffic light).
Left onto Randsburg Mojave Rd (North). In a short distance Randsburg Mojave Rd turns into a dirt road and the pavement forks right and becomes 20 Mule Team Parkway. Take 20 Mule Team parkway about 10 miles or so (North East), passing a prison, safety station and off-road park.
Left onto Rutgers Rd. Stay on Rutgers for about 3 miles during which it will change names to Clairmont, will change to a dirt road and will dead end into Bucknell Rd.
Left onto Bucknell Rd (North). Shortly you will cross Randsburg Mojave Rd and then there will be a large water tank on your right (to remain clear of restricted airspace, do not cross Randsburg Mojave Rd while in flight and identify this road by this water tank). Bucknell will then make a slow, sweeping left turn of almost 180 degrees over the next couple of miles and you will end up headed almost South. The road is rising at first, but a little past half way through the curve it starts down into a shallow valley and you will be able to see the large clearing ahead and a little to your left. It's pretty obvious. As Bucknell finishes it's 180 degree curve the clearing will end up on your right when you get there. Pull into the clearing and pick a camping spot somewhere around the edge. The higher ground on the opposite side of the clearing from Bucknell road will give you a little better chance of SOME cell phone reception, and was the down-wind side of the clearing when I was there allowing take off and landing right at the camp site.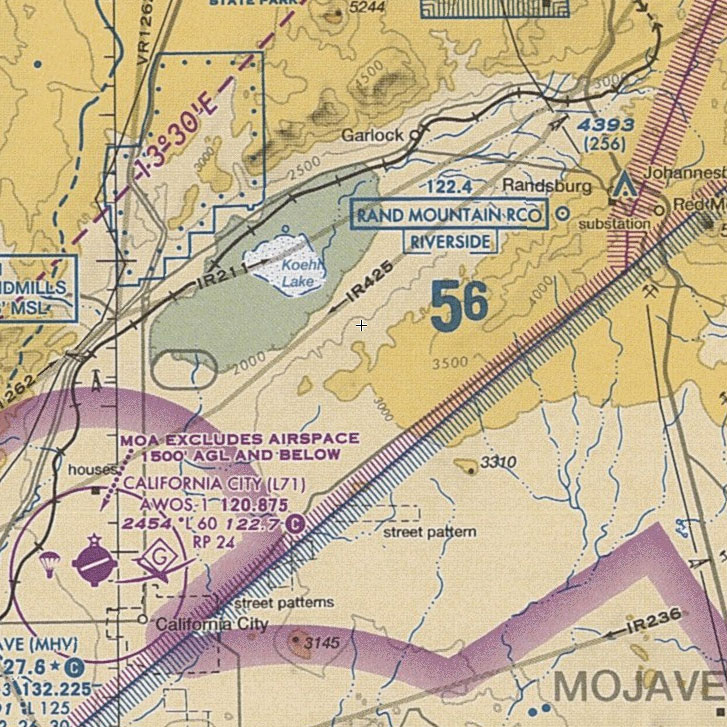 View Bucknell Field in a larger map