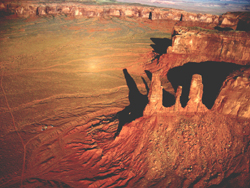 Monument Valley
Monument Valley is considered by many as the "Holy Grail" of ultralight, nanolight and microlight enthusiasts, providing spectacular natural landscapes to guide our aircraft through. For more on this year's Gathering, see https://flyingtheholygrail.blogspot.com/
Ultralights Welcome
If you plan on flying an ultralight to or from the Goulding's airstrip, be sure you are rated and have an aircraft that is stable, can handle severe turbulence and is very reliable. Power-outs over the park would not be a good representation of the sport and may have unwanted consequences for future flyins. Thank you.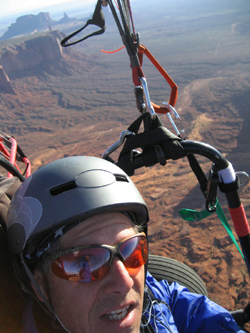 Photography
The Navajo's charge BIG peso's to photograph in the valley ($2,000 per day), and they should, it's unlike anything else on the planet. The reciprocity of respect has and continues to be something we want to keep with the Navajo Tribal Council. I will be VERY upset if any pilot violates the trust that has been established over the years with the Navajo decision makers. Please, no published pictures.
Camping in Monument Valley: click here
Goulding's Lodge: click here
The Navajo Nation: click here
Article on the Monument Valley: click here
Video of PPG flying at Monument Valley
Another Video of PPG flying at Monument Valley
Trike flying at Monument Valley
Pictures of a TrikeBuggy Bullet flight at Monument Valley
I wanted to get a taste of the area before the 2009 Gathering, so I went to stay at Goulding's Lodge (campground). On the second day, the dawn was completely calm, so a PPC Pilot and myself got a chance to fly from the airstrip out to the Monuments. You can see some photos of the flight HERE.