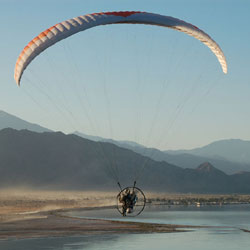 Salton Sea, CA
The Salton Sea is an inland saline lake in the Sonoran Desert of extreme southeastern California. It occupies the Salton Basin, a remnant of prehistoric Lake Cahuilla. It is bordered on the south by the rich agricultural areas of the Imperial Valley and on the west, by Anza-Borrego Desert State Park. Both the Salton Sea State Recreation Area and the Salton Sea National Wildlife Refuge are located on its shores.
The large, shallow body of water in the Salton Sea makes life like a beach with smooth, mostly onshore breezes that allow all-day flying. Mountains and canyons only a few miles west are fun to explore at the edges of daylight, either morning or evening.


Here's a great video of the Paratoys 2008 Fly-In.
History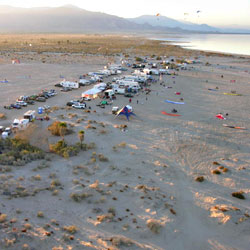 The Salton Sea was formed between 1905 and 1907 when the Colorado River burst through poorly built irrigation controls south of Yuma, Arizona. Almost the entire flow of the river filled the Salton Basin for more than a year, inundating communities, farms and the main line of the Southern Pacific Railroad.
Continued filling of the Salton Sink was finally stopped in 1907, when a line of protective levees was built by boxcars dumping boulders into the breach from Southern Pacific tracks. By then, this inland lake was about 40 miles long and 13 miles wide, covering an area of about 400 square miles.
The Salton Sea is currently 35 miles by 15 miles and can be as long as 40 miles by almost 20 miles in particularly wet years. It has an average depth of 29.9 feet and, at its deepest, is 51 feet. It contains 7.3 million acre feet of water and evaporates 1.3 million acre feet each year. There is a five-mile-long trench on the south end of the Sea that is 51 feet deep. The Sea is currently 228 feet below sea level. Interestingly, the bed of the Salton Sea is only five feet higher than the lowest spot in Death Valley.