Advanced Instructor/Master Rated Pilot, USHPA
Instructor, Instructor Administrator, USPPA
Certified Flight Iinstructor - Weight Shift Trike, FAA
Commercial Pilot, FAA
(more)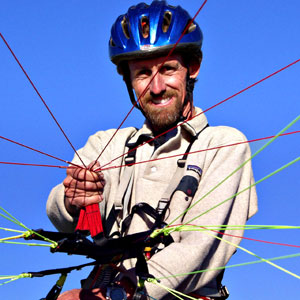 Chad Bastian - Current Owner/Operator and Lead Instructor of TrikeBuggy, Inc., American Paragliding and Miniplane-USA, was the previous Owner/Operator of Fly Above All Paragliding in Santa Barbara, CA.
Since 1998, Chad has been instructing students in Beginner, Novice, Intermediate and Advanced Paragliding, as well as Tow Pilot, Tow Technician, Tandem Pilot, Tandem Instructor and Basic and Advanced Instructor skills and ratings with the USHPA. He has also instructed many specialty Clinics, including Maneuvers, Thermal, Cross Country, Competition, Ridge Soaring and Weather.
As a Powered Paragliding instructor, Chad teaches foot launched Paramotoring, PPG Trike skills,Tandem Pilot, Tandem Instructor and Basic and Advanced Instructor skills and ratings with the USPPA. He has developed and implemented one of the only Powered Paragliding Trike Training Syllabus and Practical Skills Program in the US, specifically for teaching the TrikeBuggy, which he developed and manufactures.
In 2011, Chad became a Commercial Rated Pilot with the FAA, and then went on to attain his Certified Flight Instructor rating for the Weight Shift Trike (2-person Hang Glider type trike). He currently teaches WSC Trikes at El Mirage Dry Lake and Santa Paula Airport.
As of 2012, Chad has over 28,000 flights and 13,000 hours in a variety of aircraft. Whatever your flying focus, Chad is determined to train safe pilots, with solid skills in all aspects of flying. Click HERE for Chad's current Ratings and Certifications.
Paragliding:
Chad learned to fly a paraglider from Ken deRussy in Santa Barbara in 1993. In his first full year of flying, he logged over 900 hours of airtime in a paraglider. In 1998, Chad Bastian purchased the Hang Glider and Paraglider Emporium from his instructor and renamed the school Fly Above All. Chad was determined to continue the legacy of quality Paragliding education for one of the longest running foot launched flight schools in the US. Through Chad's vision, Fly Above All has grown, and is annually training one of the highest numbers of Novice pilots in the country. More importantly, Fly Above All and its instructors are nationally recognized for their quality of instruction and the community of pilots that surrounds it.
Chad began competing in 1997 at the National Paragliding Championships in Chelan WA. In 2001 Chad represented the US National Paragliding Team in the World Competition in Spain along with six other top US pilots. The US Paragliding National Championships in the Owens Valley were organized by Fly Above All in 2002.
Chad holds the highest safety award possible from the USHGA (Fifth Diamond- 5,000 consecutive safe flights), now with approximately 18,219 flights (currently in 2012). He is also one of the few P-5 Master rated Pilots, the highest paragliding rating available. Chad's Tandem III rating is also the highest tandem rating available. His paragliding experience and time is also one of the highest in the U.S. (over 10,000 hours of airtime as of 2012). He has held the Utah State cross-country record of 91.4 miles, and has a single paragliding flight that lasted for over 10 hours.
Hang Gliding:
In 2000, Chad went back to the training hill in Santa Barbara to get his Hang Gliding lessons and rating. He currently holds a H3 Intermediate rating with the USHPA. He used these skills to develop the TrikeBuggy Delta, a lightweight soaring Ultralight Trike.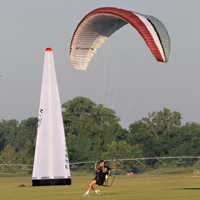 Paramotoring:
Shortly after he learned to paraglide, Chad went to one of the first Powered Paragliding (PPG) Fly-In's (convention) at La Salina, Baja California. Here, he tried a paramotor for the first time, but was not impressed with the units that were displayed. They were heavy, loud and just seemed to go against everything that paragliding meant to him - quiet, artful, requiring skill to find and utilize natural lift to stay aloft for extended periods. For the next few years, he did very little paramotoring until he discovered the PPG Trike, back when PPG Tandems were legal to do on wheels.
For the next few years, it was not uncommon to see Chad doing multiple PPG tandems with his trike at the PPG Trade shows. Folks would line up to get a Taste of Flight with a qualified and Certified Tandem Flight Instructor. In 2010, the FAA did away with the exemption allowing us to do instructional tandem flights with these PPG Trikes, so Chad decided to focus on the development and manufacture of his recently designed TrikeBuggy.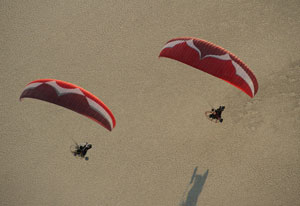 The TrikeBuggy quickly became, and still is, the best selling PPG Trike in America, and is now sold worldwide to Paramotor Pilots wanting to convert over to a quality PPG Trike. Chad further developed the TrikeBuggy to include the use of a standard Tandem Hang Glider for flight on the TrikeBuggy, making it the first commercially available "Transformer" (Paraglider/Hang Glider) trike on the market.
In 2010, Chad flew his instructor, Bruce's, Miniplane, and marveled at the light, yet powerful paramotor that would soon transform his flying focus. After trying Jeff Goin's Miniplane with the newly developed ABM "Low Hangpoint/Weight Shift" system, he placed an order that would be picked up from the builder himself, Diego Cecchetto in Italy at the World Air Games, where Jeff, Chad and Stan qualified to attend and compete!
Shortly after that, Chad made arrangements with Francesco DeSantis to distribute the Miniplane Paramotors to the Western United States to students and Dealers that he has cultivated there over the years. The Miniplane has become Chad's favorite Paramotor, and he has many accomplishments flying these motors.
Recent Timeline of Pilot Related Events:
2009 to present - Walt Disney Imagineering - Consultant for an R&D project.
2012 - TrikeBuggy Delta Photo Shoot in Sedona for the Lenovo ThinkPad
2012 - Profile featured in Paramotor Magazine
2012 - Currently Nationally Ranked at #2 by USPPA in the USA
2012 - Endless Footdrag USPPA Competition: 1st place
2012 - Salton Sea USPPA Competition: 2nd Place
2011 - Featured in an Ozone sponsored DVD: Tips & Tricks from the Pro's
2011 - USPPA Competition Salton Sea 6th Place
2010 - National Champion, USPPA
2010 - Developed the Miniplane-USA.com website
2009 - Member of the US Team at the World Air Games PPG Division
2008 - USPPA Ranked 3rd National Pilot
Chad Bastian's Ratings & Certifications:
USPPA Powered Paragliding Training Committee Chairman
USPPA Powered Paragliding Instructor Administrator
USPPA Powered Paragliding Instructor
USPPA Powered Paragliding Tandem Administrator
USPPA Powered Paragliding Tandem Instructor
USPPA Powered Paragliding Tandem Pilot
USPPA PPG3 Pilot
USHPA Master Rated Paraglider Pilot
USHPA Advanced Paragliding Instructor
USHPA Paragliding Tandem Admistrator
USHPA Paragliding Tandem Instructor
USHPA Paragliding Tandem Pilot
USHPA Paragliding Tow Administrator
USHPA Paragliding Tow Tech
USHPA H3 Intermediate Rated Hang Glider Pilot
FAA Certified Flight Instructor, WSC-Trike
FAA Sport Pilot, WSC-Trike
FAA Commercial Pilot, Airplane SEL

Articles Published: