The Stainless Steel buggy has been designed exclusively for TrikeBuggy, Inc. The frame is made from high-grade stainless steel for durability and strength, and has been designed to withstand virtually all conditions. Watch some Videos of Kiting and Buggying!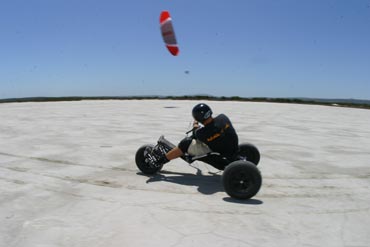 This buggy is a new all-round design that can be customized to take different sizes of wheels and back axles. This enables tricks and spins on many different types of ground while the frame gives you great lateral support.
The wrap around seat keeps tight to your body as you turn and twist giving comfortable back support. Curved foot pegs give you greater steering control and keep your feet firmly in position.
Big gauge stainless tubing, nylock nuts and stainless steel bolts provide strength and durability and complete the package. Perfect for beginners and pros alike.
Why | Bullet | Gallery | Video | Pilots | Products | Used | Prices | Sites | Weather
---