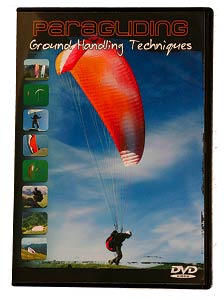 From the team that brought 'Paragliding: Learning to Fly', arguably the best tuitional flying DVD for new pilots currently available, comes an in-depth and up-to-date study of the black art of ground handling.
Why bother messing around on the ground when all you want to do it fly? Well, unfortunately poor ground handling skills account for a high percentage of the accidents we see today. Mastering your wing on the ground gives you the confidence to handle yourself on tricky take offs in difficult conditions. The result is you'll be a safer pilot who'll fly more often that those who struggle to control their wings on the deck.
This DVD not only breaks down each exact aspect of launching and ground handling it also incorporates a series of exercises to hone you skills.
Ground Handling uses the same 3D animations that make 'Paragliding: Learning to Fly' such a fantastic learning tool. Between the two DVD's you have possibly the most comprehensive learning tool available to the new pilot today.
DVD Chapters
Chapter: "Theory and Techniques of Inflation"
Animated sequences illustrate theoretical aspects of the inflation of the wing: the idea of the wind window, recentring, reducing the power of the wing, etc. Other sequences detail inflation techniques. These manoeuvres are carried out by different pilots and in varying contexts ( of weather conditions, equipment and environment): lots of examples and advice for adapting the technique of inflation to each situation.
Chapter: "Edge of the Window"
A progressive series of exercises for learning how to manipulate the wing and displace yourself, including: exploring the wind window, learning to maintain the wing in a particular configuration, learning to move yourself with it. You will also see how to re-climb a slope by using these techniques and how to effect a 'barefoot'
Chapter: "Various Exercises"
Refine your perceptions and mastery of the wing thanks to this series of exercises: Learn to feel and handle the power in the wing as it climbs from the ground. You will also see how to develop very precise handling of your wing (using each half of the wing in turn), and using this technique to re-climb the hill. And for practicing inflation in safety, a sequence for learning how to effectively collapse the wing.