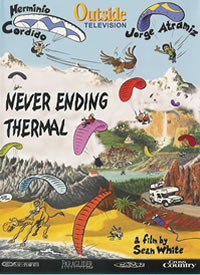 Never Ending Thermal is the celebration of the paragliding lifestyle as experienced by Herminio Cordido & Jorge Atramiz. Follow them on a journey of a lifetime flying with top pilots at spectacular locations around the world.
The paragliding film "Never Ending Thermal" has won the top award at the International Free Flight Film Festival in St. Hilaire, France. The jury comprised of film and flying professionals agreed by unamimous decision that the movie "best celebrated the spirit of free flight" and awarded the "Grand Prix du Jury" to director Sean White (Canada) and the film's stars Jorge Atramiz and Herminio Cordido (both from Venezuela). The award is considered the most prestigious honour in the world of free flight cinema and was presented on Saturday, September 18th at a gala in St. Hilaire during the 31st Coupe Icare flying festival.
The film's victory at the free flight's most prestigious film festival was seen by many as just reward for it's incredibly high level of production and beautifully simple ethos. They declared, "Never Ending Thermal has all the makings of a cult film reminiscent of the all time great surfers' reference, The Endless Summer".
Never Ending Thermal offers the true essence of the spirit of the free flying world through the daring, jubilant and informative adventures of Jorge Atramiz and Herminio Cordido, two hip Venezuelan paraglider pilots who guide us through their choice of the flying world's hot spots, ending up with the ultimate flight from the Angel Falls.
The English language DVD features the 47-minute movie with subtitles in Spanish and French, plus many bonus features including an extensive 20-minutes making-of documentary (in three languages), trailers, outtakes, extra footage from St. Hilaire and Angels Falls, the entire original soundtrack and much more.
"Never Ending Thermal is more than a well-crafted introduction to many of the world's most intriguing flying sites. It's more than a showcase of a lifestyle. And it's more than a masterpiece of cinematography. The film is a major exploration of free flying's many elements and is a beautiful contribution to our sport."
- Hugh Miller, Cross Country Magazine.