From Nowhere to the Middle of Nowhere
John Silvester and Alun Hughes' multi-award winning film on DVD!
Why | Bullet | Gallery | Video | Pilots | Products | Used | Prices | Sites | Weather
---
From Nowhere to the Middle of Nowhere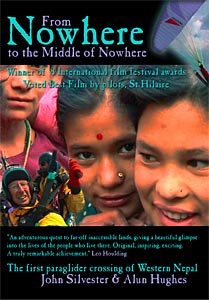 An incredible film that documents one of paragliding's greatest achievements. Nine years after the original release of the historic film 'Nowhere' has been remastered and re-released on DVD. John Silvester and Alun Hughes' multi-award winning film traces he pair as they make their audacious crossing of the western Nepalese Himalayas by tandem paraglider in the spring of 1999.
The journey across some of the world's highest and remotest mountains is filmed entirely by Alun using onboard cameras on poles which results in an intense and totally engaging ride. The duo surf huge clouds and wild mountain faces, soar past remote villages packed with waving locals, and eventually crash land in howling valley winds in the… middle of absolutely nowhere.
'From Nowhere to the Middle of Nowhere' is a fascinating account of what's possible with a paraglider. It has been the inspiration for many others over the years and remains one of the best adventure films ever made.
Speed To Fly:


www.TrikeBuggy.com
805.966.5900
info@TrikeBuggy.com


TrikeBuggy, Inc.
Why | Para | Delta | Gallery | Video | Pilots | Innovations | Training | Products | Prices | Sites
---
| | |
| --- | --- |
| | |
DISCLAIMER: Please read and be sure you thoroughly understand this disclaimer before flying a TrikeBuggy. Trike flying is an extremely demanding sport requiring exceptional levels of attention, judgment, maturity and self discipline. It is unlikely that you will be able to participate in it safely unless you make a conscious and continual commitment to your own safety. PPG and Hang Glider Trike flying is a dangerous sport and may result in injury and death even when practiced by a competent pilot using proper equipment. TrikeBuggies are not covered by product liability insurance, nor have they been designed manufactured or tested to any federal or state government airworthiness standards or regulations. Do not fly them unless you are willing to assume personally all risks in the sport of Trike flying, and all responsibility for any property damage, injury, or death which may result from your use of this TrikeBuggy. Safe operation of the TrikeBuggy requires a pilot proficiency equivalent to that of a BFI (Basic Flight Instructor), as well as an equivalent level of knowledge and understanding of those wind and weather conditions which may compromise the pilot's safe control of the TrikeBuggy. In particular, be advised that gusty winds or turbulent conditions may interfere with even an expert pilot's ability to safely control the TrikeBuggy, and may cause it to crash. Never take anything for granted in Trike Flying. If you are in doubt about anything, stop and figure it out or call TrikeBuggy. Also please read our Warning and Caution!
All the information and images published in this website are property of TrikeBuggy.com unless stated otherwise.
Reproduction of any part of these contents (info, graphics & pictures) by other website or media is strictly forbidden,
unless specially authorized by TrikeBuggy.com
© TrikeBuggy 2006 – 2019
Please respect the rights and intellectual property of this Web site.