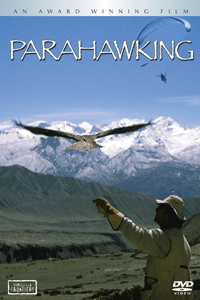 Nestled in the heart of Nepal's foothills, and set against the backdrop of the majestic Himalayas, the city of Pokhara has played host to a remarkable story.
In the spring of 2001, Adam Hill and Rajesh Bomjam, owners of Sunrise Paragliding, had an unexpected meeting with Scott Mason, a falconer from England.
In a charming twist of fate, their passions became intertwined. Together they embarked on an adventurous project to train birds of prey to fly with paragliders.
Agreeing to exchange their knowledge, Adam, Scott and Rajesh set about learning their new trades. They certainly had their work cut out. Aside from paragliding and falconry lessons, aviaries had to be constructed to house Shadoko and Sappana, two Pariah kite chicks that had been rescued from a local farmer. These two birds were to become the focus of their ambitions for the next two years.
By using the traditional methods of the ancient sport of Falconry and the modern techniques of Paragliding, Adam, Rajesh and Scott conceived and developed the concept of 'Parahawking'. Their ultimate goal was to train their two birds to mark out thermals for them, and accompany them on XC flights.
This is an account of their adventure into the unknown, and of the stunning landscapes, cultures and people of Nepal.
Written, produced, filmed and directed by the Himalayan Frontiers team, 'Parahawking' has received international acclaim since its release in September 2003, picking up awards in mountain film festivals across the globe, including France, Slovakia and Russia.