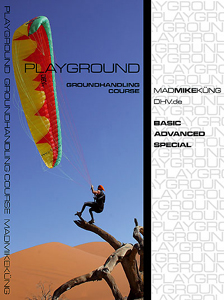 Ground handling is all about the art of canopy control. The pilot who can do everything with a canopy on the ground is a safer pilot in the air. In addition to that, ground handling makes for excellent fitness training and is loads of fun!
Mike Küng explains and demonstrates various techniques, and gives tips from over two decades of practical experience and countless training seminars. Clear explanations, extensive demonstrations and specific exercise guidelines. In this film you can learn everything about the art of perfect canopy control from one of the world's great masters.
Basic – Advanced – Special: there's material here for pilots from all backgrounds and experience levels. New tricks to learn, techniques to improve and perfect, and variations on classic exercises. Each exercise can be easily selected over the DVD menu, so everyone can build their own specific training program.
Enjoy the performance and above all - have fun ground handling with your canopy!
English and German languages, PAL version only. This DVD will not work in North American DVD players, but often works on computers.