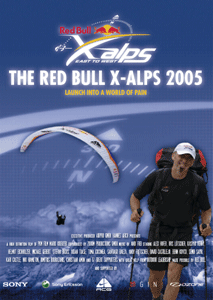 Red Bull X-Alps 2005 finishes in Monaco!
On August 1, 17 top paraglider pilots launched from Ramsau am Dachstein.
After 13 days and more than 800K of intense racing, Alex Hofer, SUI, landed in Monaco at 11 a.m. Saturday. 48 hours later the time window closed and the race finished. 3 more athletes could made it to Monaco just in time.
The rules of the Red Bull X-Alps are simple: fly as far as possible in the turbulent air high over the Alps, land safely, walk most of the night with a 20 kg pack containing their flying gear, sleep as little as possible, hike 1500M up a peak (always with the glider!) before breakfast, take-off... and repeat until reaching the beaches of Monaco, 800 km to the west!
This stunning DVD features over 70 minutes of footage, including pilot interviews and wild POV camera angles.