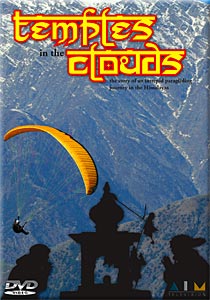 Jim Mallinson and Chicco Patuzzi share two passions: paragliding and the religious culture of India. Together they combine them both in an aerial pilgrimage to the ancient temple of Himani Chamunda, the presiding goddess of the Kangra Valley.
Perched at 2,800 m on a rocky spur, all previous pilgrims have had to make an arduous trek to reach the temple. Jim and Chicco try to fly there, but the goddess isn't easily conquered. Their skills, endurance, faith and commitment are tested to the limit.
One moment they're climbing to cloudbase, the next culturally immersed in an adventure that encounters nomadic shepherds, yogis, lamas, policemen, priests and Griffin Vultures en-route to Himani Chamunda.
Jim and Chicco are uniquely qualified for their mission: Jim, a Sanskrit scholar by profession, is both a fluent Hindi speaker and a British team pilot, Chicco, a paragliding instructor, is one of the world's foremost acrobatic pilots. Both have spent years living and travelling in India. The film has stunning aerial shots of the pair flying across the Himalayas and engaging footage of the various characters they meet in the high mountains.
Temples in the Clouds is an unusual and candid film of two friends on a personal journey through the greatest mountains in the world.
NTSC - This DVD will play in all regions. Running Time: 56 minutes.