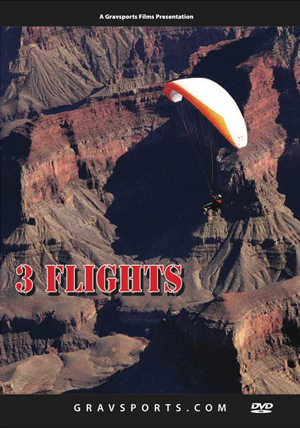 Will Gadd has a severe paragliding problem. In the last 5 years he and his friends have pushed their dreams high into the air over some of the wildest places on earth.
If you're an experienced pilot you'll enjoy flying with Will and his friends; if you've never tried paragliding but often look up at the birds and wonder 'what if?' then this DVD may make you quit your job and chase your own dreams of flying...
In the last three years Will Gadd has had dozens of requests from people to buy the various films he'd worked on. Finally, Will has produced three films, collated from three of his most memorabable expeditions, available now.
Three Flights: Records and Realizations. Three short films on one DVD:
Texas Paragliding Massacre:
setting the world paragliding open distance record in 2002, 15 min.
Andes Adventure:
Flying over the top of the Andes in 2003 with Chris Santacroce and Othar Lawrence, 19 minutes.
Grand Canyon Dreams:
the first crossing of the Grand Canyon on a paraglider, 2004, 19 minutes.
Plus still photos of each trip from Christian Pondella and Will Gadd.