UFM2
Two Years in the Making...
Produced in High Definition
"UFM2 - Ultralight Flying Millennium 2"
In Depth Information about Fixed Wing Ultralights, Trikes, Helicopters, PPCs and PPGs!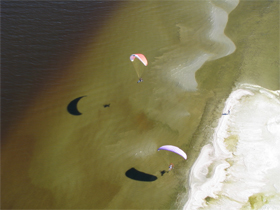 See a sample of this fine video by looking HERE!
"UFM2" is FitzGerald's sixth documentary on aviation matters and his first project in High Definition. It was made to chronicle the current state of Ultralight Flying in America.
It features what he calls "the five fingers" of ultralight flying: 1. Fixed Wing Ultralights; 2. Trikes; 3. Powered Parachutes (PPCs); 4. Powered Paragliders (PPGs) and 5. Helicopters.
In order to cover these five types of ultralights, Brian has sought out Designers, Instructors, Builders and Enthusiasts who are all flyers and very knowledgeable regarding their aircraft. Through these in-depth interviews and demonstrations of the equipment you will gather much useful information. You will also see every machine fly. By this method you can determine which type of flight to pursue.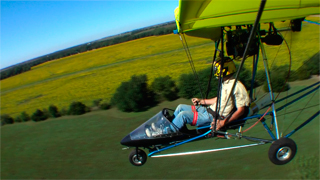 In addition to the interviews, there are numerous music video segments sprinkled throughout the movie to provide "The Romance of Flying". Of particular interest is "Lil Prop / Big Prop" which is the movie's finalé and was Designed to Put You in the Seat of an Ultralight Skimming the Prairie. It runs 24 minutes. "Lil Prop" features music written and recorded by FitzGerald with him playing the guitars and bass with a little singing thrown in.
"UFM2" is 3 hours and 15 minutes long allowing for full coverage of the subjects at hand.It was produced as a "video magazine" with chapter markers providing quick access to the many Introductions, Interviews and Music Videos.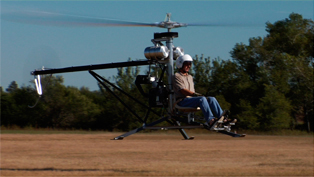 In order to complete UFM2, FitzGerald traveled to and gathered interviews and interesting flight footage from a number of locations. South Central Kansas is the region for the "Lil Prop" music video and Doug Bryant's Helicopter Interview. Gardner, Kansas was the site of the "Dawn Patrol" Fly-In and Interview with Gene Smith about his Backyard Flyer. Fort Scott, Arkansas for the Annual Memorial Day PPG Fly-In. London, Tennessee to the Home of Kolb Aircraft to talk with Stanley Chitwood and The Salton Sea south of Palm Springs to interview Designer Chad Bastian and Instructor Bob Peloquin about the TrikeBuggy.
---

The Director - Brian FitzGerald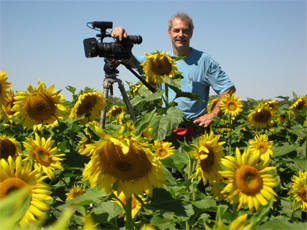 Photo courtesy Doug Moler
Taken during the Sunflower segment of the music video "Lil Prop" in "UFM2"
Brian FitzGerald of Wichita, Kansas is an independent video producer and recipient of numerous awards for TV commercials and documentaries. He has 25+ years experience in the television business working in production, news and advertising. FitzGerald is the cameraman for all of the footage used in his movies (except for some standups and some "ground-to-air" taken by Ted Lewis and Jeff Johnson (see - The Making of "MXing It Up" for more about Ted). FitzGerald is also the editor and writes/performs a good deal of the music.
Prior to entering the video business in 1981, Brian was a rock/blues musician based in Northern California where he had 3 different bands that played in N. California, Nevada, Oregon and Washington. Using various synthesizers and his trusty 1971 Gibson SG, his Ibanez bass, his daughter's Stratocaster and digital drum loops, he writes and produces virtually all of the music heard in his videos.
FitzGerald is also the proud son of a career fighter pilot for the U.S. Air Force who, as an F-105 squadron commander, carried the flag into downtown Hanoi and also flew P-47's over France during WWII.
He is married and has two children. He has a private pilot license and has flown ultralights since 1983.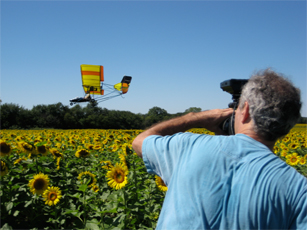 A Philosophical Note From Brian FitzGerald
It is my belief that flyers of ultralight aircraft are perfectly able to pilot their machines with the current minimal amount of government regulatory oversight. The history of the movement has proven that properly maintained, well-designed ultralight aircraft are safe.
I believe that pilots should continue to be responsible for obtaining training on their own and that they should continue to be responsible for maintaining their proficiency without any governmental licensing. American ultralight aviators have shown the world that we are indeed "...the land of the free..." Let's keep it that way! Fly smart... Fly Responsibly.
---