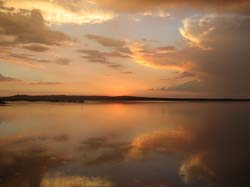 The Dry Lake!
Sometimes this lake is wet, but we don't expect any rain or thunderstorms this week! Last summer, we saw some awesome weather fill the lake right before our eyes! More...

What's up?
It's the annual Ken Brock Gyrocopter Fly-In, but really, it's just an excuse for us all to come hang out and FLY!! I'll be flying the TrikeBuggy Tandem this weekend, if anyone wants to take a flight with me, this can be arranged.

In the afternoon, we can hang out with the rest of the desert rats, playing with our wind, gas and electric powered toys. It's an all-day activities plan for those that like to play! Come on out and fly, ride, carve, pedal, and sail if you already have some toys or just come watch and enjoy the company!

Here's the link to their web site for this year: Ken Brock Freedom Fly-In
When?
I plan to arrive Friday afternoon. Be sure to arrive early enough to take full advantage of the early morning calm we hope to fly our microlights in. This means being READY to fly at around 6am.
We'll camp on the lake at night and fly again in the morning, returning home on Sunday after aviating. Come join us!
Where?
El Mirage Dry Lake, of course!