CBP Air Intercepts Ultra-Light Aircraft, Seizes Smuggled Marijuana
(Friday, October 10, 2008)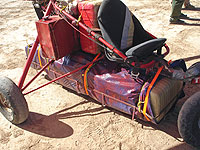 Tucson, Ariz. – U.S. Customs and Border Protection's air operations spotted and interdicted an ultra-light aircraft Tuesday that illegally crossed the U.S.-Mexican border carrying approximately 223 pounds of marijuana. The smuggled drugs have an approximate street value of $180,000.
A CBP helicopter was able to trail this light plane holding more than 200 pounds of marijuana where it was ditched in Arizona.

CBP's Air & Marine Operations Center in Riverside, Calif. Tuesday morning detected an unidentified northbound, low-flying aircraft 12 miles west of Nogales, Ariz. and just north of the border. A CBP surveillance helicopter from Tucson was launched and identified the airplane as an ultra-light aircraft. The ultra-light landed three miles southwest of Marana Regional Airport, Marana, Ariz. Once on the ground, the pilot attempted to abscond on foot. The CBP helicopter landed at the scene and apprehended the pilot, a Mexican national.
A search of the aircraft revealed 10 bundles of marijuana with an estimated weight of 223 pounds. A 2006 Kawasaki ATV was also found. The pilot, the aircraft, the marijuana and the ATV were turned over to Immigration and Customs Enforcement for further investigation with the assistance from CBP Air and Marine.
CBP's Air and Marine Operations Center spotted this light aircraft illegally enter the U.S. from Mexico. It was found to be smuggling marijuana.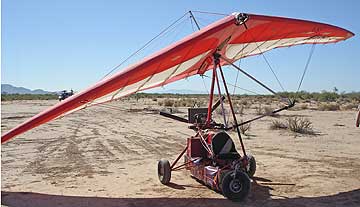 The Air & Marine Operations Center is a state-of-the-art, law enforcement radar surveillance facility that tracks and seeks to identify general aviation aircraft that are inbound to the United States, looking for drug smuggling or terrorist activity.
CBP's Office of Air and Marine protects the American people and critical infrastructure by using an integrated and coordinated air and marine force to detect, interdict and prevent acts of terrorism arising from unlawful movement of people, illegal drugs and other contraband moving toward or crossing the borders of the United States.
U.S. Customs and Border Protection is the unified border agency within the Department of Homeland Security charged with the management, control and protection of our nation's borders at and between the official ports of entry. CBP is charged with keeping terrorists and terrorist weapons out of the country while enforcing hundreds of U.S. laws.
As seen on: