Peru Fly Flight Suits
Paraglider Magazine
"Suit Yourself"
by Dan A. Nelson
PeruFly Inca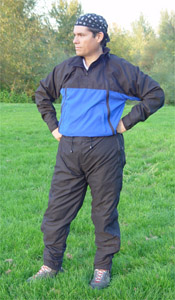 The first thing you notice about the PeruFly Inca flight suit is the texture of the outer fabric. Rather than a stiff, shiny nylon shell common on outerwear, the PeruFly boasts a soft, brushed nylon. The material feels like soft cotton, but still provides complete wind protection and (if you should be unlucky enough to get hit with a squall) solid water resistance. In fact, the material sports a DWR (durable water repellent) finish as good as many waterproof, breathable rain jacket. Inside, the suit sports a microfleece liner that proved effective at wicking moisture away from the skin, keeping me dry and comfortable, even after standing on launch for more than an hour in sweltering heat, waiting my turn to fly. Once aloft, that wind-proof outer fabric, and soft, cozy inner liner, created a warm environment even when the temperatures dropped.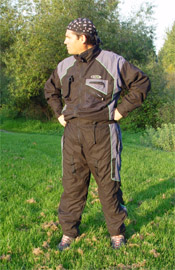 Indeed, the Inca proved to be a great all-season suit. While warm, the moisture management properties of the fabrics make it great for summer, and because it is generously cut, it's possible to add a warm fleece layer underneath for those cold winter flights. Further adding to its suitability for cold-conditions (whether flying in winter, or just coring up into the frigid air of cloud-base), the Inca boasts a couple truly innovative features. A soft microfleece baclava (a sort of a full-head stocking cap, with a hole cut out for your face) is sewn into the suit just below the collar. When not needed, it folds flat into a small, integrated pocket. But when it's cold, the baclava can be pulled out, slipped onto your head and under your helmet for amazing warmth. Similarly, small palm 'mittens' are integrated in th Inca's sleeves.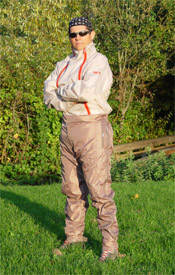 Folded flat and stored in their interior pockets, they are unnoticable. Like the baclava, the mittens are made from high quality microfiber fleece that insulates remarkably well and creates a nearly windproof barrier over your skin. The mittens cover the palm and back of your hand, and have a generous thumb-hole. Put on these half-mittens, then pull on your regular flight gloves, and you have an uninterrupted seal over your arm. Indeed, with the baclava (and a pair of goggles or glasses), you can effectively protect every bit of your skin from the ravages of frigid winds.
The Inca sports two chest pockets, and a small radio pocket on the torso, as well as hand-warmer pockets at hip level. Instrument straps are provided on the legs to help secure variometers and/or GPS units, and heel loops and Velcro cuffs prevent the legs from riding up on launch or in flight.
In short, the PeruFly Inca suit offers a great set of features, wonderful fit, and good looking stylings. It's a suit I'd gladly wear in all but the warmest weather.
Peru Fly Flight Suits

Sizing Chart

Nazca

As a result of our Pilot-designer's experience and knowledge the Nazca suit is a full featured, fully lined suit filled with details that meet the needs of pilots worldwide. Its micro fiber fabric is lightweight; soft, comfortable and warm yet remains durable for most flying situations.

Inca

The Inca is a suit designed with style and flair. Simple lines and simple features maintain a classic and sleek presentation. It is constructed of a durable micro fiber, which is warm, soft and comfortable. Reinforced insulation in the sleeves makes this a perfect selection for the pilot exposed to the elements.

Lima

This practical suit is made of windproof fabric, light enough to cut the cold of the wind yet keep you comfortable and fresh in warm weather. You can fold it in a pouch pocket then hang it from your belt, it won't take much space and will be ready until you need it to fly.
For more information on the Peru Fly Flight Suits, visit MPH Sports