Here is a great package for pilots looking to move into PPG Triking!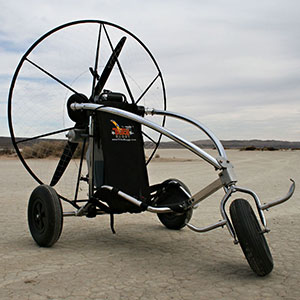 Mini-Bullet: $11,695
Bullet V3.2 version: $11,895
The TrikeBuggy Mini-Bullet is specifically made for the lighter motors and pilots. This design is FAA Part 103 legal as an Ultralight Vehicle or Aircraft.
Smaller footprint, but not smaller pilot!
Even though the TrikeBuggy Mini-Bullet's overall wheelbase length and width are shorter, the actual frame size where the pilot sits is exactly the same size as the regular TrikeBuggy Bullet, making this as comfortable a ride as the original! The rear axle simply uses the smaller, more abbreviated axle which also includes the Slider feature!
The TrikeBuggy Bullet is our next generation PPG Trike inspired from designs that are both visually appealing and highly functional. This design is for the paraglider version only and is FAA Part 103 legal as an Ultralight Vehicle or Aircraft.
The Bullet's frame is simple and solid. It is sleek and racy, giving the pilot a protective cage that will protect the pilot from contact with the ground in case of a rollover.
The new V3.2 lowers the Bullet Bars, giving the pilot better visibility and making it easier to get into the trike from above. PLUS - it features our new Stainless Steel SLIDER rear axle, making it even easier to transport the TrikeBuggy!
Both the regular Bullet and the Mini-Bullet will accept a variety of Paramotors easily with our Comfort Bar Adapters, or even with simple double-wrap Velcro attachment: