Black Hawk Kiting Harness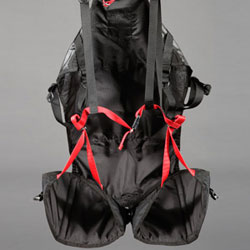 This kiting harness is extremely light weight, with low carabiner attachments. It is very comfortable to wear on ground and fun for contour flight in the sand dunes. It is very adjustable to fit most pilot and has attachment points for a speedbar system.
This harness was modeled after the superlight Thin Red Line paragliding alpine harnesses that are no longer available. It has not been certified for flight. Also, this harness does not include carabiners.