Ozone Layer Flight Suits
The Ozone Layer Flight Suit: The Ozone Layer is a high performance one-piece flight suit designed to shield you from the elements at cloud-base.
Freezing high altitude temperatures and speed-bar induced windchill will no longer get you down, and you will cruise toward your cross country goal in comfort and style.
A 3-layer waterproof / windproof shell with mesh liner, full leg and chest zips, zip pockets, and a high collar to keep your neck warm, the Ozone Layer is a high-tech flight suit at a reasonable price for pilots of all abilities.
PLEASE NOTE: Only limited sizes are available.
The Ozone Layer Flight Suit
See our eBay Store!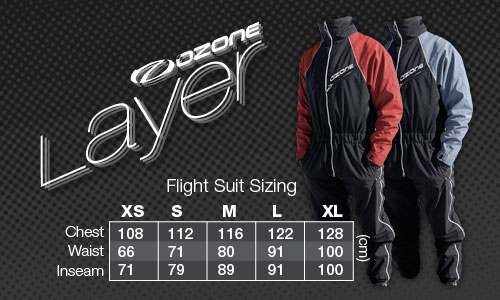 We apolgize, but due to the fluctuation in the dollar exchange rate, many of our suppliers are unable to provide us with consistent pricing on the products we purchase from them. Therefore we must also state that prices are subject to change without notice. However, be assured, when you place an order we will contact you for approval before processing any product purchase at a different price than what is stated on the web.