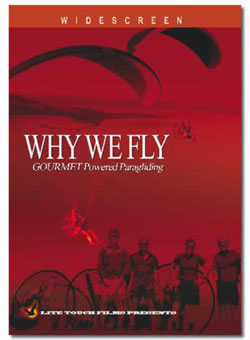 This much anticipated paramotor DVD by film maker Phil Russman is finally ready. The follow up to the hugely successful Gourmet PPG, the new DVD follows four pilots as they venture deep into one of Mexico's most majestic and remote regions, Magdelena Bay. The scenery and flying is beyond compare, but the adventure is not always smooth sailing.
Why We Fly is an in depth look at how these pilots discover for themselves the unique rewards and the sometimes painful challenges of a wilderness powered paragliding adventure.
With no roads, the only way to access the remote areas of Mag Bay is by boat or bush plane. The paramotor is absolutely perfect for this task. Using a yacht as a support vehicle, the team explores by air during the day, and sleeps on the boat at night. But when you're having the time of your life, it's easy to forget that you're in the middle of nowhere. And when things go wrong, as they did, the wilderness tends to bite back.
Described by Jeff Goin as "the Best PPG video I have ever seen. No actually it's the best flying video I've ever seen." Whether you dream of flying, are addicted to flying, or you're stuck with someone who is, this amazing 90 minute will leave you no doubt about… Why We Fly.
The Making of Why We Fly
When I took my camera along on this trip, I didn't set out to produce a DVD. I was simply hoping to capture some good footage, and enjoy a much needed vacation. But by the end of the adventure, so much had happened. The other pilots urged me to put together a documentary. One year later, they finally convinced me, and I sat down in front of the computer to start reviewing the footage and writing the story.
As I wrote, I kept imagining pilots as well as their close friends and family watching it. I wanted to make it interesting and fresh for experienced pilots, but also informative on a basic level for those who weren't in the sport. As a result, this DVD serves two functions very well... It reveals the amazing possibilities of a remote PPG adventure to new pilots and experienced pilots, and it helps those close to a pilot to understand Why We Fly.
Intermission
While test screening Why We Fly to small group of pilots, the hard drive locked up and it took a few minutes to get it going. Meanwhile, everyone got up, went to the restroom or grabbed more snacks. So this gave me the idea to add an intermission 51 minutes into the show.
Thank you for watching.
Phil Russman