Helix Carbon Fiber Propellers for Paramotors (powered paragliders) and PPG Trikes
These remarkable looking propellers are not only beautiful, but highly functional as well! Helix is a world leader in the manufacture of Ultralight Carbon Fiber Propellers, and these precision props feature these benefits:
Better performance
Reduced oscillation
Compostie construction
Thinner profile
Incredibly efficient

Helix Carbon Propellers manifest their best features with modern gliders at high speeds, as they have new thin laminar profiles for high perormance.

Helix Carbon GmbH
The company HELIX Carbon GmbH develops and manufactures carbon fiber propellers since 1990 for a wide range of applications. Starting with a staff of three people, propellers were developed for the paramotor and PPG Trike market. Today, Helix has 10 employees working on our 1000sqm facility at the Merzbrück airfield producing an average annual volume of 11,500 propeller blades for the paramotoring and ultralight market in general.
Why a carbon fiber propeller?
Propellers made of carbon (carbon fiber reinforced plastic - CRC) have a long lifespan and can be repaired very well. By using the same mold, the blades are identical and reproducible, thus offering a high dimensional stability. Carbon fiber propellers do not react to moisture so they do not warp and also give high dimensional stability. With better strength properties, the carbon fiber propellers have high vibration compensation. The vibration of the engine is better absorbed and thus gives a smoother running propeller.
Production
The production of the propeller blades is handmade. The aluminum molds are first coated with a viscous, special high-quality epoxy resin. This is about a 0.3 mm thick layering that later forms the propeller blade surface. This is particularly robust and has a high surface quality. It follows a thin liquid epoxy resin, in which the previously suitably tailored carbon fiber fabric layers are embedded. The mold halves are folded together and after four hours of curing at 65 ° C, and a complete propeller blade is removed.
Finishing
The edges are removed and the surface is polished. The blades are weighed and balanced accordingly. The last step before final inspection is the CNC milling of the propeller bolt holes.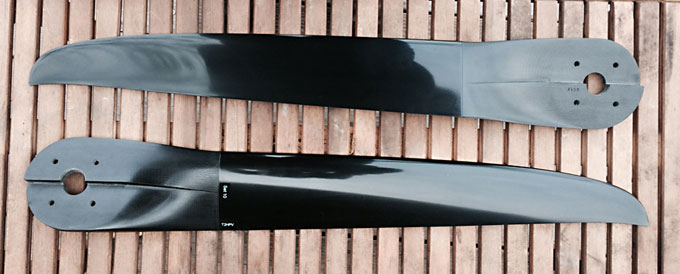 When placing your order, you will need all the important technical information to obtain the right propeller.
Here is an Example of the Helix Item specifications: H30F 1,30m R-ES-05-2 / Top 80 / reduction 1:3.84
If you don't know the Item code of your Helix propeller, we will need always the name of engine, reduction and diameter of propeller, plus the bolt size & pattern and center hole diameter. Then we can find the right one for you or can possibly offer you several solutions.
What does H30F 1,30m L-M-08-2 mean?
H30 = Class of thrust (5-25 hp)
F = fixpitch / V = variable
1,30m = propeller diameter
R = right rotating (clockwise)/L=left (anticlockwise)
M = Airfoil type - we have L;M;S;NJ;NM;N;EZ;Z;I
05 = pitch / mathematical pitch at propeller tip
2 = number of blades.
If you are unsure about whether a propeller will work for your engine, please contact us to be sure!
NOTICE:
Please choose carefully. Due to the delicate nature of propellers, returns are limited. We cannot accept returns on propellers once they have been bolted to the engine. We will not accept returns on propellers that have been wound up or flown even once.
Propellers must be packed very carefully as they are easy to damage in shipping. We suggest a good deal of extra padding and cardboard to protect the ends. If the propeller is damaged during return shipping we will not be able to issue you a refund, so consider insuring it with the shipper so you have financial remedy if it is damaged.