TrikeBuggy introduces the Bullet Thumper - a Four-Stroke PPG Trike made with the reliability and efficiency that pilots are looking for in a flying machine!
Pilots wanting a dedicated PPG Trike, that is, with a motor that will never be foot-launched, can now enjoy the benefits of a four-stroke engine! Read more about the research and development that Terry Lutke, the designer, went through while coming up with this unique power plant. There's also a photo tour of the Birth of the Thumper's Redrive Hub.
The TrikeBuggy Bullet Thumper is brand new, although Terry has been flying the Four-Stroker on other trikes for some time now. The Bullet Thumper has triangulated strength from the chromed steel curved front tubes attached to the front of the Stainless Steel Kite Buggy to the Thumper motor frame, giving this machine a very solid feel and a very sleek and sexy look!
The signature TrikeBuggy Low-Hangpoint hook-in system has been moved back to allow your arms to be in front of the straps, giving the pilot more comfort and complete freedom of movement while flying. Trimmers can be located either above or below the Riser Guides to make it easy to access, and the brakes are comfortably within reach rather than as high as you can stretch your arms, as they are on many PPG Trikes.
The 4-Stroke Thumper Power Plant comes with a GSC 60" Wooden Blade Propeller that is adjustable while on the ground. Pilots can also upgrade to the 3-blade Ivoprop Ground Adjustable Propeller with optional Polished Aluminum Spinner for optimal performance.
Features & Benefits:
4-Stroke reliability and efficiency
Powerful 4 stroke industrial engine
Reliable Electric Starter with motorcycle battery
Larger propeller delivers more thrust
Extremely low Center Of Gravity (COG)
Low Hangpoint is standard, easy to reach controls & trimmers
Custom 3 sheave built belt reduction
Hand held throttle with motor kill button
Welded steel frame (durable black finish)
5 gallon fuel capacity - provides over 5 hours of flight time
Removable fuel tank with in-line filter, fuel level sight tube, and fuel shut off
Quiet Muffler for minimal disturbance of neighbors
We called the new 4-Stroke motor unit the "Thumper" because of the low timbre sound this engine makes while running, waiting for the pilot to apply throttle to launch. During launch, most all motors, including electrics, make about the same amount of noise, since it's the speed of the tips of the propeller that really scream when launching and climbing. At cruise (straight and level flight), the noise is quieter due to the low RPM's made possible by swinging a larger propeller.
The low CG of this machine is achieved by having a very long redrive belt, allowing the heavy four-stroker motor to sit at buggy-frame level, dropping the Center Of Gravity to a much lower point than other PPG Trikes. This makes the TrikeBuggy Bullet Thumper extremely stable during inflation, taxi, launch and landing. Flying this reliable 4-Stroke motor gives the pilot a relaxed, confident peace-of-mind that regular 2-stroke paramotors simply cannot give. Learn more about the 4-Stroke Thumper's development HERE.
Here is a list of advantages the 4 stroke aviation motor has over a 2 stroke motor:
More reliable (very important when flying)
Less daily maintenance
Far longer lasting before requiring a rebuild
Lower fuel use
No oil/gas mixing
Readily available parts and service in every town
Parts and repair labor cost far less
Quieter running
4 strokes are far less polluting
Peace of mind while flying a reliable engine
Videos of the Four-Stroke before it was a Bullet...
TrikeBuggy Delta Thumper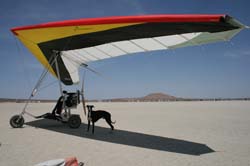 Here's some pictures of the latest project we are working on. It's a four-stroke V-Twin 23 hp stock motor mounted on the Transformer Delta frame. Watch a Video featuring the sound of the four-stroke motor.
The first flights were performed on Friday, May 15, 2009 at the El Mirage Dry Lake Ultralight Testing Grounds.
The glider used was the North Wing Stratus wing, specifically designed and made for triking. We used this wing because we had to use a 62" diameter propeller, and other tandem Hang Gliders have wires that get in the way.
The package worked really well the very first time, there was no need to adjust anything. I performed about 50 Touch & Go's while guiding David Schultz on the radio as he did taxi practice on the regular TrikeBuggy Delta.