Package Special!

Now, for a limited time, we are including an Icaro Skyrider TZ PPG Helmet and the PPG Bible with our Paramotor Packages - a $240 value!
These great helmets protect your ears while engaging in Paramotoring. Helmet can be upgraded if desired, you can add an optional electronics package which will allow you to communicate with your instructor and other pilots. Check out this Great PPG Helmet!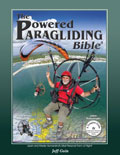 The PPG Bible has become the industry standard PPG training textbook for learning how to Paramotor.
This resource provides newcomers with everything needed to succeed at paramotoring, buy equipment and thrive in the sport.