Front Mount Reserve Container
Reserve Parachute Container and Instrument Deck for TrikeBuggy Pilots!
Why | Bullet | Gallery | Video | Pilots | Products | Used | Prices | Sites | Weather
---
Front Mount Reserve Container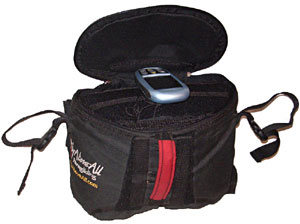 Our Front Mount Reserve Container and Instrument Deck attaches easily to your carabiners and hangs in view while flying.
Even though we call this a Front Reserve, it can be attached on the side if you prefer. The Front Mount Reserve Contaner can be packed with any of the fine reserve parachutes we carry - just order at the same time and ask us to pack it!
Features:
Top flap folds back out of the way while in use.
Padded top flap zips closed to protect your instruments when not in use.
Holds your vario, GPS, compass, etc. with velcro and lanyard loops.
Reserve handle is red and in plain view for easy access.
Made of durable materials for many years of use.
Does not include the Reserve Parachute.

www.TrikeBuggy.com
805.966.5900
info@TrikeBuggy.com


TrikeBuggy, Inc.
Why | Para | Delta | Gallery | Video | Pilots | Innovations | Training | Products | Prices | Sites
---
| | |
| --- | --- |
| | |
DISCLAIMER: Please read and be sure you thoroughly understand this disclaimer before flying a TrikeBuggy. Trike flying is an extremely demanding sport requiring exceptional levels of attention, judgment, maturity and self discipline. It is unlikely that you will be able to participate in it safely unless you make a conscious and continual commitment to your own safety. PPG and Hang Glider Trike flying is a dangerous sport and may result in injury and death even when practiced by a competent pilot using proper equipment. TrikeBuggies are not covered by product liability insurance, nor have they been designed manufactured or tested to any federal or state government airworthiness standards or regulations. Do not fly them unless you are willing to assume personally all risks in the sport of Trike flying, and all responsibility for any property damage, injury, or death which may result from your use of this TrikeBuggy. Safe operation of the TrikeBuggy requires a pilot proficiency equivalent to that of a BFI (Basic Flight Instructor), as well as an equivalent level of knowledge and understanding of those wind and weather conditions which may compromise the pilot's safe control of the TrikeBuggy. In particular, be advised that gusty winds or turbulent conditions may interfere with even an expert pilot's ability to safely control the TrikeBuggy, and may cause it to crash. Never take anything for granted in Trike Flying. If you are in doubt about anything, stop and figure it out or call TrikeBuggy. Also please read our Warning and Caution!
All the information and images published in this website are property of TrikeBuggy.com unless stated otherwise.
Reproduction of any part of these contents (info, graphics & pictures) by other website or media is strictly forbidden,
unless specially authorized by TrikeBuggy.com
© TrikeBuggy 2006 – 2019
Please respect the rights and intellectual property of this Web site.