"Y" Bridle for
Reserve Parachute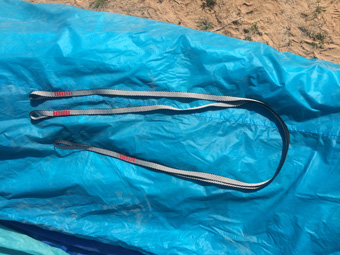 A single Y-shaped solo paragliding reserve bridle, with stitched loops at each end, to connect a solo paragliding reserve parachute to a solo paragliding harness.
Y bridle (single Y-shaped bridle).
Length: 145cm. Weight: 120g.
"Y" Bridle
$34 with FREE USA Shipping!
We apolgize, but due to the fluctuation in the dollar exchange rate, many of our suppliers are unable to provide us with consistent pricing on the products we purchase from them. Therefore we must also state that prices are subject to change without notice. However, be assured, when you place an order we will contact you for approval before processing any product purchase at a different price than what is stated on the web.