The TrikeBuggy Eyepod is our new aerodynamic front fairing. You can say that it is to make you go faster through the air, but let's face it - it's really all about the sex appeal! Hence the name - EyePod.
This highly polished gelcoat finished nosecone features 100% hand-laid composite construction. No painting needed, this finish is molded in and will last for many years to come!
The Eyepod is great for those chilly mornings where the wind is right in your face, or right up your pantlegs! Plus, its sleek styling will be sure to make your TrikeBuggy stand out in the crowd!
Available as just a seperate front nosecone, or together as a package with the matching WheelPants, the EyePod is sure to be as visually attractive as it is effective while airborne.
Features:
100% hand-laid composite construction
Stunning array of brilliant metallic colors, plus plain black or white
Includes all brackets and hardware to mount on the TrikeBuggy
Pre-cut wheel holes (requires Standard (narrow) Tires)
Visually stunning finish for your Personal Flying Machine!
Three types of WheelPants are also available - Basic, Short Fin and Tall Fin. See the EyePod Color Page to view the various WheelPants.
Colors available:
White
Black
Yellow
Metallic Blue
Metallic Red
Metallic Emerald Blue/Green
Metallic Black Cherry
Click Picture below to view examples!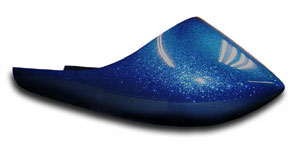 TrikeBuggy EyePod
No Longer Available