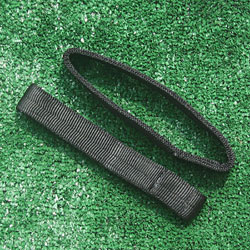 TrikeBuggy Hang Straps are sewn from 1" tubular webbing by a Certified Parachute Rigger. They are double thick and triple sewn to produce a nice stiff hang strap that will work nicely for both Powered Paragliding Trikes and Hang Glider Trikes.
Hang Strap lengths are measured with the strap laid flat (doubled as shown - view larger image). 7" hang straps work best as the primary attachment for our 1" frame, with a 10" size being excellent as a backup.
The TrikeBuggy Hang Straps attach the caribiners to the Power Loops around the Split Shaft Collars to position the hang point for the pilot. In a foot-launched hang glider, the hang strap is the suspension strap the pilot hooks in to before launch. (There are always two hang straps: a main and a back up.)
If you have any suggestions or questions, or simply want to talk to us about the TrikeBuggy, please feel free to email us at info@trikebuggy.com or call us at 805-403-1859.