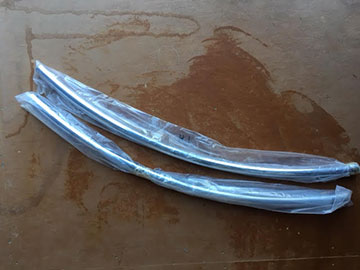 The TrikeBuggy uses these beautiful and distinctive Curved tubes to complete the Bullet PPG Trike.
The Curved Tubes are made of cold steel with a chrome finish and sold individually if needed for replacement.
They are 1.5" diameter stock, and allow the pilot to adjust the CG of this small untralight aircraft exactly where they need it for perfect balance.
The TrikeBuggy Curved Tubes are made for the Regular Bullet V3.2 for standard height Pilots. Curves Tubes are also available in XL Length - the Stretch version for long legged pilots.
Curved Tubes are sold as a pair, one right side and one left side.
Have a look at a recent flight by one of our family of TrikeBuggy Bullet Trike Pilots: