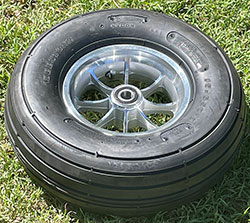 Welcome to the most beautiful, functional and highest performance TrikeBuggy and Kite Buggy wheel ever made!
See larger pictures of these wheels HERE.
These wheels are high performance:
Heat-treated aluminum
Extremely durable
Lightweight
Tubeless
Low friction & low drag
Lower maintenance cost
Ball bearings will last 4 times longer
The look provides a considerable added value to the end product, they canít be compared to plastic!

The Zero Gravity Narrow Buggy Wheel includes High-Speed Bearings.
Diameter: approx 16 inches
Width: approx 4 inches
Weight: approx 6 lbs.
Axle: 1/2" diameter
We also offer a wide version of this wheel, see navbar on the left.