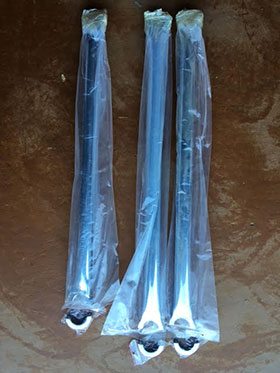 There are three tubes that make up the rear of the TrikeBuggy Bullet:
2 x Rear Upright Tubes
1 x Rear Horizontal Tube
These tubes attach to the Rear Axle at the bottom and the Curved Tubes at the top. The Upright tubes can be positioned wherever needed to allow the Comfort Bar Adapters to fit most every Paramotor.
They can also be used with the Comfort Bar Adapters as positioners, restricting the side to side movement of the paramotor. When placed either to the outside or inside of the paramotor frame uprights, simple One-Wrap Velcro can be used to hold the paramotor securely in place (use three wraps minimum in four positions: top & bottom, left & right sides).
There are a total of two Rear Uprights and One Rear Horizontal Bars used on the TrikeBuggy Bullet V3.2. Replacement Bars are sold seperately here (each).